Your rug is the glue that pulls a room together. It connects individual pieces of furniture and makes them all 'hold hands'. This is particularly important with an open plan design where you need to create zones without walls. Where do the dining room end and the lounge room begin? A well-placed rug will often show you.
And when it comes to How to Choose the Right Rug Size matters.
Go too small, and you've lost your glue, and your room will feel bitsy.
Too big? It hardly ever happens, so don't worry about it.
In general, bigger is better when it comes to rugs, but we need to be realistic. In a world of unicorns and fairies, you might be able to find an affordable rug that is large enough to fit under ALL your furniture. That's not our preference anyway. It's better to see some floor sticking out around a zone rather than just having a wall-to-wall rug.
IF YOU HATE YOUR FLOORING AND CAN'T AFFORD TO REPLACE IT, GO FOR THE BIGGEST RUG, YOU CAN AFFORD AND COVER AS MUCH SURFACE AREA AS POSSIBLE.
How to Choose the Right Rug Size for LOUNGE ROOM:
In lounge rooms, we look for rugs big enough to sit under the legs of the couch and any occasional chairs – 30 cm of rug under the leg is ideal, but we'd settle for less. If your rug doesn't reach under the legs of your couch, that's ok. As long as the colour matches your vision board, you can still make it work. In addition to the size of the rug is important to choose and his color, so he blended with the whole room. Many designers are advised to match the color of the rug to the color of rugs and bed linen (in Ukrainian постільна білизна).
OK
As long as your rug matches the length and width of your couch configuration, you can get away with it not reaching under the legs of your furniture.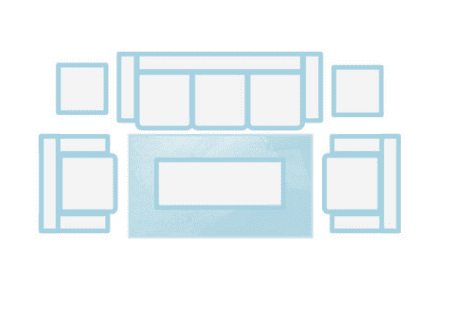 BETTER
Ideally, your rug is large enough to sit under the front legs of your couches and occasional chairs.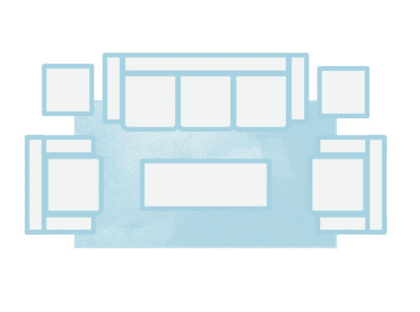 BEST
In a larger living room, a 3×4 rug with all furniture on the rug pulls the room together and will create a warm and inviting living space.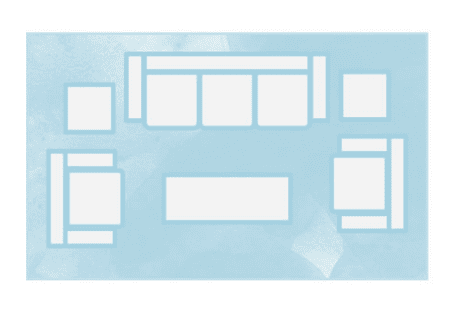 How to Choose the Right Rug Size for DINING ROOM:
In a dining room, the rug you're looking for is big enough to allow the chairs to sit fully on the rug, even when people are seated. That means all four of their chair legs are on the rug – not half on and half off. In terms of shape, this will be one of the easiest styling decisions you'll have to make; round rugs go with round tables, and rectangular rugs go with rectangular tables.

BEDROOM RUGS:
In a master suite, you'll be looking for a rug big enough to extend out on either side of the bed and at the foot of the bed.

As a rule of thumb, a 2×3-metre rug works best, but if you've got a large room, you could go even bigger. If a round rug is in the stars for you, we like to position it on one corner.
AND DON'T THINK RUGS ARE JUST FOR HARD SURFACES. A RUG ON TOP OF A CARPET IS ALSO A WINNING COMBO THAT ADDS TEXTURE AND INTEREST.
We are selling We are Selling Luxury Rugs, Rugs in Sydney, Rugs online, Carpets online, Cheap rugs online, Buy Rugs online, Rugs online Sydney, Buy Rugs, Persian style Rugs, Large Rugs Online, Grey Persian rug, So You can Buy here online.